WE ARE VISIT BERWICKSHIRE COAST
Stretching from the Eastern Scottish Border to Cove, The Berwickshire Coast's strong connection with the sea has shaped the lives of residents for centuries producing a unique heritage, culture, history, nature, and people that have a great appeal to visitors. Visit Berwickshire Coast aims to release the full potential of the area as a tourist and visitor destination by highlighting all the extraordinary features of this wonderful coastline!
Visit Berwickshire Coast was developed through the East Berwickshire Coastal Community Partnership consisting of Eyemouth Harbour Trust, Eyemouth Museum and the Eyemouth & District Chamber of Trade who collectively aim to raise the profile of the cultural heritage in the community, promote fisheries and local seafood from local landings, encourage new interest in the industry and enhance tourism interest in the area.
The main objectives for Visit Berwickshire Coast are to:
Deliver a structured, coordinated and collaborative marketing strategy promoting the image of fishing and the coastal culture of Eyemouth and surrounding coastal communities.
Principle facilitator for the coastal communities on PR and Marketing.
Bring together people, businesses and organisations involved in discovering fisheries tourism, and to contribute to increased tourists to the harbours and towns and maritime from land and sea.
These will be led with a focus on four principles themes:
Fisheries Heritage
Marine Tourism
Seafood
Coastal Leisure Activities
The intention is to maximise the cultural heritage of the fishing communities and market what the area has to offer to both tourists and locals, through destination marketing these unique characteristics.
Should you wish to get in touch, please email marketing@visitberwickshirecoast.co.uk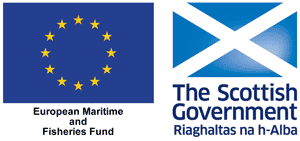 Visit Berwickshire Coast is proudly funded by European Maritime and Fisheries Fund (EMFF).